Crossing Lines Season 2
Episodes:
12
Original airdate:
2014 –2015
Season 2 of Crossing Lines began airing in 2014 and ended in 2015. The season continues straight from where Season 1 left off, with most of the original cast remaining (except for Moon Dailly). Lara Rossi is also added as Moon's replacement.
It was followed by Season 3, released in 2015.
The ICC team faces new challenges and cases in their quest to bring criminals to justice throughout the European Union. Arabela Seeger joins the team, disgusted by what she sees as corruption in her police department. The ICC makes new allies and new enemies along the way. The season culminates in
Compared to Season 1, Season 2's episodes focus more heavily on the backgrounds of the ICC team members. The season finale also features the death or resignation of many of the lead characters, which polarized viewers (many of who claimed this move ruined the show completely).
Recurring castEdit
Introduced Edit
Carrie-Anne Moss as Amanda Andrews
Ray Stevenson as Miles Lennon
Picture
Title
Season
Episode
Directed by
Original Airdate
U.S. viewers
(million)
150px
"The Rescue"
2
1
Xavier Gens
2014
The team must find a way to deal with the loss of Anne-Marie, confirmed at the end of Season 1. At the same time, Dorn and the team, aided by Miles Lennon, track Dimitrov to a base in England, where he is holding Louis and Rebecca hostage. The team prepares a daring raid to rescue the Daniels before Dimitrov kills them and gets his brother released.

This episode marks the death of Dimitrov and thus ends the Daniel-Dimitrov story arc.

150px
"The Homecoming"
2
2
Michael Wenning
2014
Hickman receives a call from Amanda Andrews, a former NYPD partner back in New York, who is involved with busting a child smuggling ring. The operation turns out to be a trap set up by Genovese, who wants to face off against Hickman one last time. Hickman and Andrews must rekindle their relationship and stop a desperate Genovese.
150px
"The Kill Zone"
2
3
Eric Valette
2014
A mysterious sniper, code-named Winston Smith, is killing policemen and civilians alike across Europe. He is trying to create a platform for his extremist demands to dissolve the European Union. The ICC team crosses borders to bring him down, while Dorn convinces Rebecca to prosecute again.

This episode officially makes Arabela Seeger a member of the ICC team, filling the space left by Anne-Marie

150px
"Everybody Will Know"
2
4
Philip John
2014
Bullying threats are sent to 4 teens, threatening to release sexual videos of them on the Web. After the suicide of 3 of them, the ICC steps in. However, they are hindered by bad press caused by the leaking of Sebastian's gambling habits to the public. With their technological expert formally under arrest, Louis and the team work around the rules to get his charges cleared.

This episode confirms that Erik is really Sebastian's son

150px
"Home Is Where the Heart Is"
2
5
2014
150px
"Freedom"
2
6
2014
150px
"The Velvet Glove"
2
7
2014
150px
"Family Ties"
2
8
2014
150px
"Truth or Consequences"
2
9
2014
150px
"The Long Way Home"
2
10
2014
150px
"The Team: Part 1"
2
11
2014
150px
"The Team: Part 2"
2
12
2014
Marketing
Edit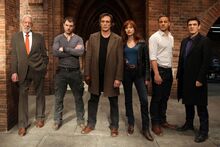 ======